RUBAPAVE® remains durable and flexible in all weather conditions, making it the perfect longlasting surface for North Americans. It can withstand temperatures ranging from -148ºF (-100ºC) to 135ºF (57ºC), and be salted and snow plowed.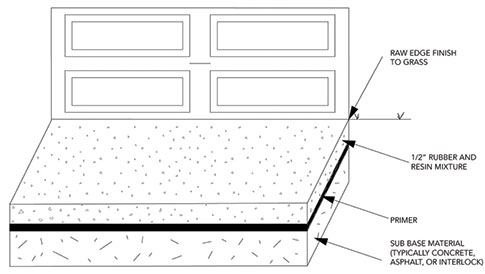 Typical components of a RUBAPAVE® system for driveway
The unique aspects of RUBAPAVE® safety surfacing is that the system can be applied on a variety of old, cracked surfaces to create a strong, long-lasting surface. There are two ways to install RUBAPAVE® safety surfacing: on an existing surface or using a compacted aggregate base

Installation with schluter trim edging
Schluter trim is used to create a closed edge along RUBAPAVE® surfaces. The trim is applied prior to application around the edges and can be purchased in a variety of finishes. Schluter trim also acts as a guide to maintain 1/2' thickness.
Installation with vanishing edge
A vanishing edge required more preparation as the grass and dirt must be pulled back prior to installation. After the surface has cured fully, the dirt and grass is then placed back.

Installing flush with adjacent surfaces
Prior to installation grinding around objects (i.e. drains) and edges may need to be completed to ensure that RUBAPAVE® can be installed flush and prevents any tripping hazards.